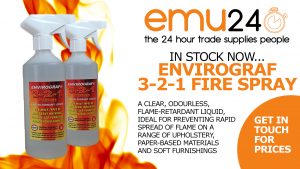 EMU24 is a major stockist of Enviroboards.
Enviroboards Fireboard is a strong and versatile magnesium oxide fire resistant board suitable for use both internally and exterally. Enviroboards fire protection board is a fraction of the cost of alternatives such as Supalux, Masterboard, Asbestolux and Glasroc. 
Plaster board replacement in areas prone to water ingress/flooding. Replacement of multi layer build e.g. ply and plaster board. Boards can be painted directly, or finished with plaster/render.
Applications include:
Partition Walls & Ceilings
Wet Room Backing
Timber & Steel Stud
Replace Asbestolux Board
Fire Barrier For Roofs
Structural Integrity
Oil Tank Fire Board
Acoustic performance
Timber Clad
Flood damage repair
Boundary Walls
Conservatory re-roof
ENVIROBOARDS Fireboards have been tested by UK and European accredited testing facilities.